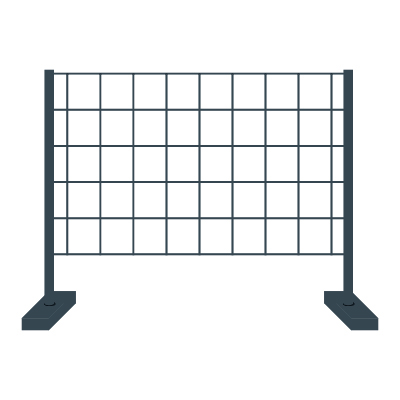 Site Preperation
Johnson Brothers Group (JBG) offers a wide range of site preparation services that are essential to the initial stages of any small-scale to large-scale construction projects for both safety and security. In preparing a site for construction site JBG can offer the following items:
- Temporary Fencing
- Barriers
- Silt Mesh
In addition to the items listed there may be additional items needed as each construction project may have different requirements and JBG can offer additional items if needed.



Temporary Fencing
Temporary fencing is used for a wide range of applications including construction sites, residential housing and crowd control. Depending on the size and duration of the project there are some important factors to consider before installing temporary fencing.
Assessing the site area
It is vital to consider the measurements of the area, not only to ensure the fencing provides security and safety to the project and the employees but to also ensure for the right budgeting.
Environmental factors
It important to understand the terrain you are working in and identify any issues such as uneven ground, ground hardness or other conditions that could impede on your fencing selection.
Legal requirements
Based on the location, duration and type of application will mean there will be differing laws and regulations.
Barriers
Barriers are physical items that come in a variety of forms and are used as a significant safety tool to mitigate risk and restrict unauthorised access in an enclosed area. However, there are other factors that are considered when employing barriers across construction sites, events and other industrial projects.
Silt Mesh
Silt Mesh is used mostly on construction sites as a temporary perimeter control to protect water quality from any potential sediment run-off caused by construction activity. Silt Mesh is made from 'geo-textile' that is woven together to provide durable material for filtering. Types of Silt Mesh include:
Green Standard Silt Mesh
This mesh can be used effectively to limit erosion and capture dirt, sediment and other displaced soil whilst allowing water to filter through.
Wire-back Silt Mesh Fence
When larger amounts of sediment run-off is expected due to significant earth moving then wire-backing silt mesh will be the most suitable option as it is the most durable.
Hi-Vis Standard Silt Mesh
A popular option for construction sites, this type of mesh is the safest option and is ideal for sites that require high visibility.
Biodegradable Silt Mesh
For outdoor use, the biodegradable mesh provides an alternative and eco-friendly option for sediment filtering for over a long period of time.
Staked Silt Barrier
Using a high strength, non-permeable material rather than a permeable woven fabric, this staked mesh will redirect higher and faster water flow.