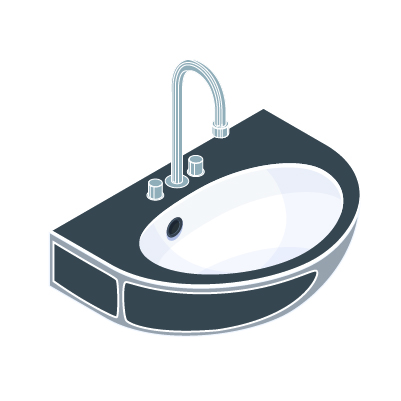 Final Fit
There are important functional, aesthetic, and economic considerations in the final fit stage. From door hardware, backsplashes, appliances through to floor coverings; Johnson Bros Group can offer a comprehensive range plus extensive knowledge and experience with providing a final fit out for projects both large and small. Final fit products and services include:
Door Hardware and Locks
Backsplashes
• Toughened Glass
• Stone
• Tiles
Benchtops
• Granite
• Polished Concrete
• Laminate
• Marble
Laundry Appliances
Kitchen Appliances
Window Coverings
Decking
Bathroom


Door Hardware and Locks
Selecting the right lock and handle for your doors is especially important. There are a few factors that you should come into consideration when selecting the right locks, these Identifying what function you require for your door will determine which lock to install. These include:
Entrance sets
These are areas that are used regularly and need to be locked.
Privacy sets
Areas that are indoors that may need a lock, e.g. Bathrooms
Passage doors
Areas that don't need a lock e.g the laundry.
For each function there is an extensive range of options to choose from including door accessories like coat hooks.
Backsplashes
A backsplash is used to protect walls that are prone to 'splashes' of moisture, especially in areas like kitchens and bathrooms and come in the following materials:
Toughened glass
Toughened glass is popular but more expensive option compared to other material types. It provides versatility in colour choices. Is easy to clean without having to be concerned with mould / mildew build-up in the grout.
Stone
Like that of glass, stone is an easily maintainable material and offers a great scratch-resistance feature. Higher initial costs and requires specialist installation.
Tile
Versatile in its design and affordable. For the most part, tiles are durable and are less prone to scratches and cuts that may be encountered with natural materials like timber.
Benchtops
Benchtops are arguably one of the most important features for a kitchen. Accordingly, you want to ensure you are picking the right material for both look and function. Popular materials include:
Granite
Is a natural material, although an expensive material from the outset, it requires minimal maintenance, durable and is resistant to scratching and staining.
Polished concrete
Polished concrete is becoming popular for benchtops. It's well associated with offering an 'industrial appearance. Design options are extensive and can offer a range of different textured looks. It is expensive to install but easy to maintain.
Laminate
Laminate is an affordable option that manages to provide an array of different finishes, styles, and colours. Being a budget option it's not a durable and can be easily damaged.
Marble
Is the most expensive option due to its aesthetic qualities. It has good heat resistance but it not a durable to scratches as other materials. The porous nature of marble also requires special attention when cleaning.
Appliances
There are a range of appliances, often known as whitegoods, that are utilized for an array of different functions throughout residential and commercial buildings. Common whitegoods include:
Laundry Appliances
Washing machines
The most common types of washing machines available are Front-load, Top-load and Washer/ Dryer combo machines.
Front Load
Washing machines - compact design and are usually more energy and water efficient. It also provides an option to stack a dryer on top.
Top Load
Washing machines - convenient and affordable option as they tend to have a greater drum size capacity than front-loaders.
Washer-dryer combos
- as the name suggests, it functions as both a washer and a dryer.
Dryers
- The most common types of dryers include vented dryers, condenser dryers and heat pump condenser dryers.
Heat Pump Condenser
machines do not require ventilation so aren't restricted as to where they should be placed. They can operate at reduced noise levels and is energy efficient with its ability to recycle warm air to dry clothes.
Vented dryers
are the most common dryers due to their affordability. They are required to be positioned near an external window or door to allow for proper ventilation.
Kitchen appliances
Common appliances for the kitchen include ovens, cooktops, microwaves, rangehoods, fridges, freezes and dishwashers.
Ovens
Gas or electric are the two heating elements. Gas ovens are an affordable option but lack the all-round heating consistency. Electric ovens provide better heating and are much more versatile with heating options.
Cooktops
Gas, electric or induction are three main options for cooktops. Gas is a popular choice; electric cooktops are more affordable and Induction cooktops are becoming an increasingly popular option but are also the most expensive.
Microwave
Countertop, over-the-range, built-in and convection microwaves are the most common types available on the market.
Rangehoods
There are different style of range hoods that are available including canopy, undermount, fixed, retractable and downdraft ventilation.
Fridge / Freezers
Fridge and Freezer combos can come in a variety of styles, including top mount, bottom mount, Side-by-side, French door, separate fridge and freezer.
Dishwashers
Dishwashers are a great feature to have installed in any household or commercial building Types of dishwashers include; Free-standing, Built-in, Integrated and Dish Drawer.
Floor Coverings
Flooring has a major impact on the presentation and functionality of a room. There are a range of flooring choices on offer, these include;
Carpet
is a popular flooring choice that can cater to a variety of budget options in a range of colours and textures. Carpet also mitigates the risk of falls and accidents.
Vinyl
is an affordable option that can withstand areas more prone to high foot traffic, susceptible to damage from scratches and scuffs which would not be an easy or cheap fix as it would require the whole floor to been replaced.
Laminate
is a budget-friendly option that can cater to differing styles in most areas of a house. Laminate offers durability and is resistant to scratches, stains and dents caused by impact and if need be, is easy enough to clean. Does not work well with extreme moisture exposure so best to be avoidable in areas like bathrooms and laundries.
Tiles
are an alternative and popular flooring choice that offers both flexibility in design and room location. It is easily maintainable and does not collect dirt and other allergens compared to other material types.
Polished concrete
is a contemporary option that is commonly found within commercial areas, and industrial-style décor households. Durable and can withstand high foot-traffic areas and areas likely to use heavier equipment.
Window Coverings
There are a range of window covering options for both commercial and residential applications. Window coverings include;
Blinds
Blinds are an affordable option that offer complete user control of light infiltration in a room. They are easier to clean and are more hygienic compared to fabric-based material like curtains that are prone to collecting dust and other allergens.
Curtains
Curtains are a popular choice with their design versatility and flexibility. They come in a range of textures, fabrics, colours and patterns to suit a range of different style preferences. Curtains tend to be more costly compared to blinds however they offer durability and are a more cost-effective option.
Shutters
Shutters tend to be the highest priced option on the market. Similar to blinds, they have a light control feature that can enable natural light to filter in whilst also offering privacy.
Shades
Shades can come in a variety of styles and colours. Applying shade window coverings in any room offer functional features like insulation and privacy.
Decking
Outdoor decking areas are popular features for residential properties. The installation of a deck is a worthwhile investment that will add value to a home in both an aesthetical and functional context. Considering these factors will determine what type of material will be most suitable;
Hardwoods
A popular and premium decking option with its warm tones and natural hues.
Treated pine
A versatile, affordable and eco-friendly option. It does not offer the visual value that hardwoods offer however it can be stained in a variety of colours to suit different style preferences.
Composite decking
An increasingly favourable eco-friendly option that is composed of recycled plastic and wood grain and offers the ability to provide a timber-look finishing. We source an extensive range of decking materials with complementary coatings for all your decking needs, whether small-format or large-scale construction.
Fencings
Fencing application in residential and commercial areas is used for a range of factors including security, privacy, and decoration. Depending on the area to be fenced there are several types of fencing to choose from, these include;
Aluminium fencing
Is an affordable, long-lasting and low-maintenance option as it does not rust and does not need to be re-coated like wood. It offers great versatility and can come in a variety of colours and designs.
Timber fencing
Is a versatile material that can come in different forms, from the traditional-style picket fence to large paling fences. Timber is an alternative and affordable fencing solution. Timber is prone to damage from natural elements and will require regular care and maintenance.
Vinyl fencing
Offers many benefits in the way of privacy, affordability, and durability. The longevity of vinyl can withstand environmental conditions better to that of other fencing materials and requires minimal maintenance.
Chain link fences
Are more likely to be used for commercial applications such as sporting fields rather than residential fencing.
Landscaping Supplies
Landscaping can enhance a building's layout and potentially increase its market value. For landscaping supplies, we can offer the following:
Garden soils and potting mixes
Garden soils are ideal for planting a range of plants and also indoor plants in pots.
Decorative pebbles and gravels
Great for bringing out colour into the landscaping project.
Mulch
Provides a natural look and works well to keep the soil moist. Great for garden beds.
Sand
Can be used as a decorative piece and for children's sand pits
Cement Mix
We source a range of cement mixes from general purpose to customizable mixes for any construction project.
Bathroom Ware
Accessories
JBG can provide a selection of products and accessories that includes toilets, bathroom vanities, showers, baths, basins and tapware.
Toilets
Although a functional equipment by nature, there are many choices available when it comes to selecting a toilet. Identifying your plumbing system will enable you to select which pan type you will utilise.
Bathroom Vanities
A bathroom vanity is a feature that needs to be considered in both an aesthetical and functional context.
Showers
The shape and size of the area, budget and energy efficiency and who will be mainly using the shower are important factors to consider upon selecting the most suitable shower head selection.
Baths
Before deciding on a particular style of bathtub like an inset or free-standing, factors such as usage, layout, installation, energy efficiency and comfort should be considered.
Basins
Different basin types each offer their own functionality strengths so considering lifestyle, users and budget will help in the selection process.
Tapware
There is an abundance of stylish finishes available for tapware that doesn't require the sacrifice of functionality.
Lighting
Understanding the layout of your room will help to identify where different lighting designs may be more suitable and what corresponding lighting fixtures would be most appropriate. The following types are commonly used for lighting:
Ambient lighting
(Commonly referred to as general lighting) is the most adopted lighting method throughout a house.
Specified lighting
Is employed for areas requiring a particular form of light such as kitchen sink lighting and desk lighting. Track lighting and spotlight fixtures are a popular choice for this type of design.